Raphaels Bank
Find contact information of Raphaels Bank: official web-site, address, phone numbers, products, reviews about bank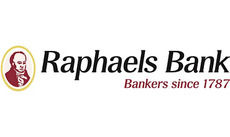 Bank group:
Head office's address:
19-21 Shaftesbury Avenue
Phone:
+44 (020) 3751 16 00
Web-site:
https://www.raphaelsbank.com/
More about bank
Raphaels Bank traces its roots back to 1787 and is one of the oldest independent banks in the UK. Today we operate as a dynamic, niche savings and lending bank with a portfolio of ATMs and a well-established, market-leading payment services division. Raphaels Bank is authorised by the Prudential Regulation Authority and regulated by the Financial Conduct Authority and the Prudential Regulation Authority, and qualifying clients have the protection offered by the Financial Services Compensation Scheme and the Financial Ombudsman Service. The Bank is also a member of both MasterCard and VISA, and the LINK interchange network.
Give feedback