CAF Bank
Find contact information of CAF Bank: official web-site, address, phone numbers, products, reviews about bank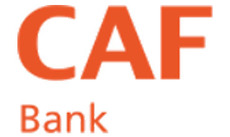 Head office's address:
25 Kings Hill Avenue Kings Hill West Malling Kent ME19 4JQ
Phone:
+44 (030) 0012 34 56
Email:
cafbank@cafonline.org
Web-site:
www.cafonline.org/about-us/about-caf-bank
CAF Bank in social networks:
More about bank
Owned and operated by a charity, CAF Bank is the bank for charities and not-for-profit organisations; dedicated to serving the sector and providing banking services with the benefits you'd want such as:confidence that your money is safe knowing that any profits are reinvested in the charity sector personal service from a UK-based customer service teamCAF Bank provides simple and straightforward day-to-day banking, designed exclusively for charities. Whether you want a current account for transactional banking, a savings account, or even access to borrowing, CAF Bank can help.
Give feedback
Banking reviews to your e-mail!