Habib Bank Zurich
Find contact information of Habib Bank Zurich: official web-site, address, phone numbers, products, reviews about bank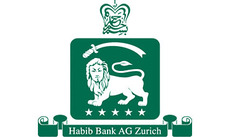 Bank group:
Head office's address:
Habib House, 42 Moorgate
Phone:
+44 (020) 7452 02 00
Email:
contactuk@habibbank.com
Web-site:
www.habibbank.com
More about bank
Habib Bank AG Zurich began operations in the United Kingdom in 1974 as a branch of a Swiss bank Habib Bank AG Zurich.On 01 April 2016, Habib Bank Zurich plc (a wholly owned UK incorporated subsidiary of Habib Bank AG Zurich Switzerland) took over the operations and business of the UK Branch.Habib Bank Zurich plc is incorporated in England under registration number 08864609 and trades under the name "Habib Bank AG Zurich". Our registered address is at Habib House, 42 Moorgate, London EC2R 6JJ. Habib Bank Zurich plc is authorised by the Prudential Regulation Authority and regulated by the Financial Conduct Authority and the Prudential Regulation Authority. We are registered in the Financial Services Register with the registration number 627671.Habib Bank Zurich plc offers its personalised banking services through its conveniently located network of eight branches in London, Manchester, Leicester and Birmingham.
Give feedback