Bank of Communications (UK)
Find contact information of Bank of Communications (UK): official web-site, address, phone numbers, products, reviews about bank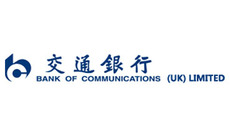 Bank group:
Head office's address:
4th Floor, 1 Bartholomew Lane
Phone:
+44 (020) 7614 76 00
Email:
admin@uk.bankcomm.com
Web-site:
www.bankcomm.com/BankCommSite/shtml/London/en/3562/list.shtml?channelId=3562
More about bank
Bank of Communications (UK) Limited (BoCom Ltd) is a wholly-owned subsidiary of the Bank of Communications Co. Ltd (the Bank), which is a diversified financial services company based in China. For 16 years, the Bank has had a representative office in London, and the progression to a subsidiary in London is in line with the Banks' expansion plans, and will benefit from the development of anticipated China - UK bilateral economic growth. BoCom Ltd successfully applied for and received a wholesale banking licence from the FSA in July 2011, and is now open for business in the UK.
Give feedback