N M Rothschild & Sons
Find contact information of N M Rothschild & Sons: official web-site, address, phone numbers, products, reviews about bank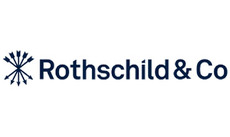 Bank group:
Head office's address:
New Court, St Swithin's Lane
Phone:
+44 (020) 7280 50 00
Web-site:
https://www.rothschild.com/en/contact-us/
More about bank
N M Rothschild & Sons Limited or Rothschild Group (commonly referred to as Rothschild) is a British multinational investment banking company controlled by the Rothschild family. It was founded in the City of London in 1811 and now serves as the British division of Rothschild & Co, a global firm with 57 offices around the world. It is the 7th oldest bank in continuous operation in the United Kingdom.
Give feedback