National Bank of Egypt (UK)
Find contact information of National Bank of Egypt (UK): official web-site, address, phone numbers, products, reviews about bank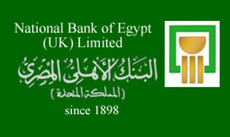 Head office's address:
11 Waterloo Place
Phone:
+44 (020) 7389 12 00
Fax:
+44 (020) 7930 88 82
Email:
enquiries@nbeuk.com
Web-site:
www.nbeuk.com
National Bank of Egypt (UK) in social networks:
More about bank
National Bank of Egypt (UK) Limited is a wholly owned subsidiary of National Bank of Egypt (NBE), the largest and oldest bank in Egypt, with total assets of US $40Bn, it is also one of the largest banks in Africa and the Middle East.NBE (UK) Ltd commenced trading as an authorised institution under the UK Banking Act 1987 (superseded by the Financial Services and Markets Act of 2000 as amended by the Financial Services Act 2012) in December 1992, and was set up in order to take over the operations of 2 London branches of NBE (UK) Ltd, established in 1982. The Bank provides general banking services in the UK and worldwide.
Give feedback
Banking reviews to your e-mail!