Bank of Cyprus (UK)
Find contact information of Bank of Cyprus (UK): official web-site, address, phone numbers, products, reviews about bank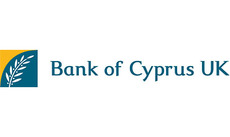 Bank group:
Head office's address:
PO Box 17484 87 Chase Side
Contact center:
0345-850-55-55
Phone:
+44 (020) 3375 64 22
Email:
customerservice@bankofcyprus.co.uk
Web-site:
www.bankofcyprus.co.uk
Bank of Cyprus (UK) network:
More about bank
We've built our business in the UK since 1955 on the belief that you have more important things to do than wrestle with complex products or spend valuable time administering your banking arrangements.Our approach to banking is therefore clear and straight-forward.We look after our savers by offering consistently attractive and competitive rates of interest on our deposit products. We then use these deposits to lend to UK small and owner-managed businesses, offering them a responsive, flexible and enduring banking relationship. Bank of Cyprus UK has a branch in North London and business centres in Central London, South London and Birmingham. We provide innovative online and mobile banking services to enable our customers to manage their finances 24 hours a day, 7 days a week. Online Banking, mobile banking and free text alerts are available to savers and small businesses.There are a number of reasons why Bank of Cyprus UK is a safe and attractive home for your savings and a strong banking partner for your business.
Give feedback