Scotiabank Europe
Find contact information of Scotiabank Europe: official web-site, address, phone numbers, products, reviews about bank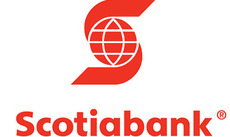 Head office's address:
201 Bishopsgate, 6th Floor
Phone:
+44 (020) 7638 56 44
Fax:
+44 (020) 7638 84 88
Web-site:
www.scotiabank.com/global/en/0,,6182,00.html
Scotiabank Europe in social networks:
More about bank
Through both The Bank of Nova Scotia London Branch and our U.K. subsidiary, Scotiabank Europe plc., Scotiabank offers a broad range of Corporate and Investment Banking, Capital Markets, and Trade Finance and Corresponding Banking services. In addition, we offer clients a range of precious and base metals trading services (through ScotiaMocatta – the precious and base metals business of Scotiabank) and complete oil & gas M&A advisory services (through Scotia Waterous, the oil & gas M&A business of Scotiabank).
Give feedback
Funny video
2-year-old kid likes to throw. Look what happened when his parents bought him a basketball ring!