Turkish Bank
Find contact information of Turkish Bank: official web-site, address, phone numbers, products, reviews about bank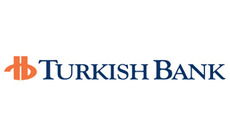 Bank group:
Head office's address:
84-86 Borough High Street
Phone:
+44 (020) 7403 56 56
Email:
info@turkishbank.co.uk
Web-site:
www.turkishbank.co.uk
Turkish Bank network:
More about bank
Turkish Bank UK Ltd is a wholly owned subsidiary of Turkish Bank Limited incorporated in Northern Cyprus in 1901.In 1974 Turkish Bank Ltd (TBL) opened its first branch in Harringay followed by a second branch at Elephant & Castle in 1980. The bank then acquired premises at Borough High Street and relocated its central office there in 1990. In 1991 permission was granted to convert the Bank to an UK incorporated company which from 1992 onwards has been known as Turkish Bank UK (TBUK). In 1994 a new branch was opened at Dalston and in 1995 the branch at Elephant & Castle was transferred to premises at Borough High Street and the name changed to London Branch. Further Branches were opened at Edmonton in 2005, Palmers Green in 2006 and at Lewisham in 2009, making six branches in total.
Give feedback