Clydesdale Bank
Find contact information of Clydesdale Bank: official web-site, address, phone numbers, products, reviews about bank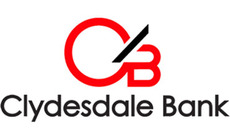 Bank group:
Head office's address:
40 St Vincent Pl
Phone:
+44 (080) 0345 73 65
Bank Details:
Web-site:
www.cbonline.co.uk
More about bank
Clydesdale Bank is part of CYBG PLC one of the UK's leading banking groups. Clydesdale Bank was established in 1838 in Glasgow. The bank has a history of innovation and support for Scottish industry and communities. With over 120 retail branches and a network of business and private banking centres, Clydesdale is one of Scotland's largest banks.
Personal services
Business services
Answers to popular questions from bank customers of Clydesdale Bank
Give feedback