Metro Bank
Find contact information of Metro Bank: official web-site, address, phone numbers, products, reviews about bank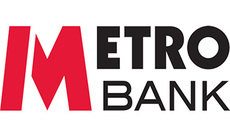 Head office's address:
One Southampton Row
Phone:
+44 (034) 5080 85 00
Web-site:
www.metrobankonline.co.uk
Metro Bank network:
Metro Bank in social networks:
More about bank
Metro Bank PLC is a retail bank operating in the United Kingdom, founded by Vernon Hill in 2010. At its launch it was the first new high street bank to launch in the United Kingdom in over 150 years. It is listed on the London Stock Exchange and is a constituent of the FTSE 250 Index.
Personal services
Business services
Give feedback
Funny video
2-year-old kid likes to throw. Look what happened when his parents bought him a basketball ring!